RoSPA Inspiration Awards 2021
"MWH Treatment have been recognised with a win at the RoSPA Inspiration Awards 2021 in the Initiative of the Year category. We put forward our 'Natural Language Understanding (AI) Method Statement Enhance and Review System' which was met with great acclaim from the judges.
RoSPA looks for inspiring examples of teams and individuals going above and beyond in their management of health and safety, despite the shared challenges we have all faced in 2020 – something we strongly excelled in. This is an unbelievable achievement and is again reflective of the incredible efforts of our people each and every day.
MWH Treatment have worked with Intuety to develop the system, which has revolutionised the way our SHEQ team review RAMS and identify risks.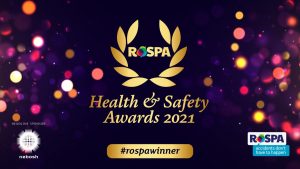 Working With Intuety
Intuety are market leaders in the application of AI and augmented intelligence across the industrial sector. Building a relationship with such a forward-thinking organisation completely links to MWH Treatment's vision and values, as being at the forefront of Health and Safety standards and digital innovation is integral to what we do.
Intuety has helped to:
Manage our Corporate incident memory
Increase resource efficiency
Review application of hierarchy of controls
Track and record RAMS approval and amendments
"This award demonstrates our desire to be at the forefront of Health and Safety innovation and to be recognised by RoSPA is an incredible achievement for MWH Treatment. We are always looking for ways to innovate and our collaboration with Intuety in helping to develop it's 'Natural Language Understanding (AI) Method Statement Enhance and Review System' is an excellent example of this"
said Simon Cox, SHEQ Director."
Original article source here