GBN Services Ltd Partners with Intuety
GBN Services Ltd have become the latest high-profile organisation to adopt the Intuety platform into their working practices.
As the leading skip hire, recycling and waste disposal company in London and the southeast, GBN are under pressure to deliver the highest standard of service while managing extremely busy workloads. They have primarily adopted Intuety to help save time and ensure quality in the process of RAMS creation.
David Wolfenden, Group H & S Manager said:
"Intuety helps us by permitting the local managers to upload their RAMS for review into the AI system, which helps them ensure that their RAMS are complete and highlights any areas that may need to be considered."
The AI system David refers to is a corporate knowledge base, made up of 1000s of previous RAMS documents from the company's archives and the wider industry. When a new document is created, authors get a quality score and intelligent suggestions based on what similar, previous documents have included.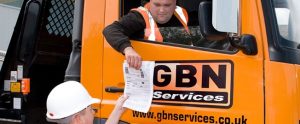 Blending AI and the Human Touch
While some may worry that an AI platform for RAMS documentation would eradicate the need for careful, human thought before a procedure, as David notes, the document creation process is overseen and checked at every stage by a manager in the organisation.
"The Intuety system greatly assists the authorisation process, as the person authorising gets to see what has been accepted or rejected by the local manager at every stage. Because these changes reside on the Intuety system we can demonstrate the proof-reading and authorisation to auditors if necessary.

The Intuety platform is just what GBN Services need to help improve their existing RAMS and to ensure all future RAMS have a third-party review."
Intuety and GBN Services look forward to developing a successful partnership over the coming years.
About GBN Services Ltd:
GBN Services was incorporated in 1986 and has grown to become the leading skip hire, recycling and waste company across London and the Southeast. They have a strong regional presence supported by established UK wide partners. Their customer focused, reliable and sustainable services are reinforced by business operating systems accredited with ISO 9001, ISO 14001, ISO 45001, PAS 402, FORS (Silver) and Constructionline Silver including SSIP Acclaim.
GBN Services has built a strong reputation for putting customers first, delivering a reliable service at all times and ensuring maximum recycling through sustainable solutions.
About Intuety:
Intuety is a cloud-based solution that brings AI into the health and Safety workplace. Our freely searchable library utilises semantic search and Natural Language Understanding to provide you with relevant Hazards, Risk and Mitigations based on what you search, instantly.
Intuety will provide each RAMS with a completely objective quality score out of 100% that improves throughout the process, which provides and element of gamification that motivates improvements.
Intuety provides Intelligent suggestions on each RAMS for risks and controls that may not have been considered or otherwise missed therefore improving the quality of the document and lowering the likelihood and severity of presented hazards.​ It also provides an analysis of the RA and MS, uncovering key improvements and insights, ensuring consistent documentation.​
Intuety's corporate memory narrows down thousands of internal and public lessons learned and incident documentation, to a short number of absolutely relevant documents every time.​
For more information book a discovery call here